Poole Road – South Side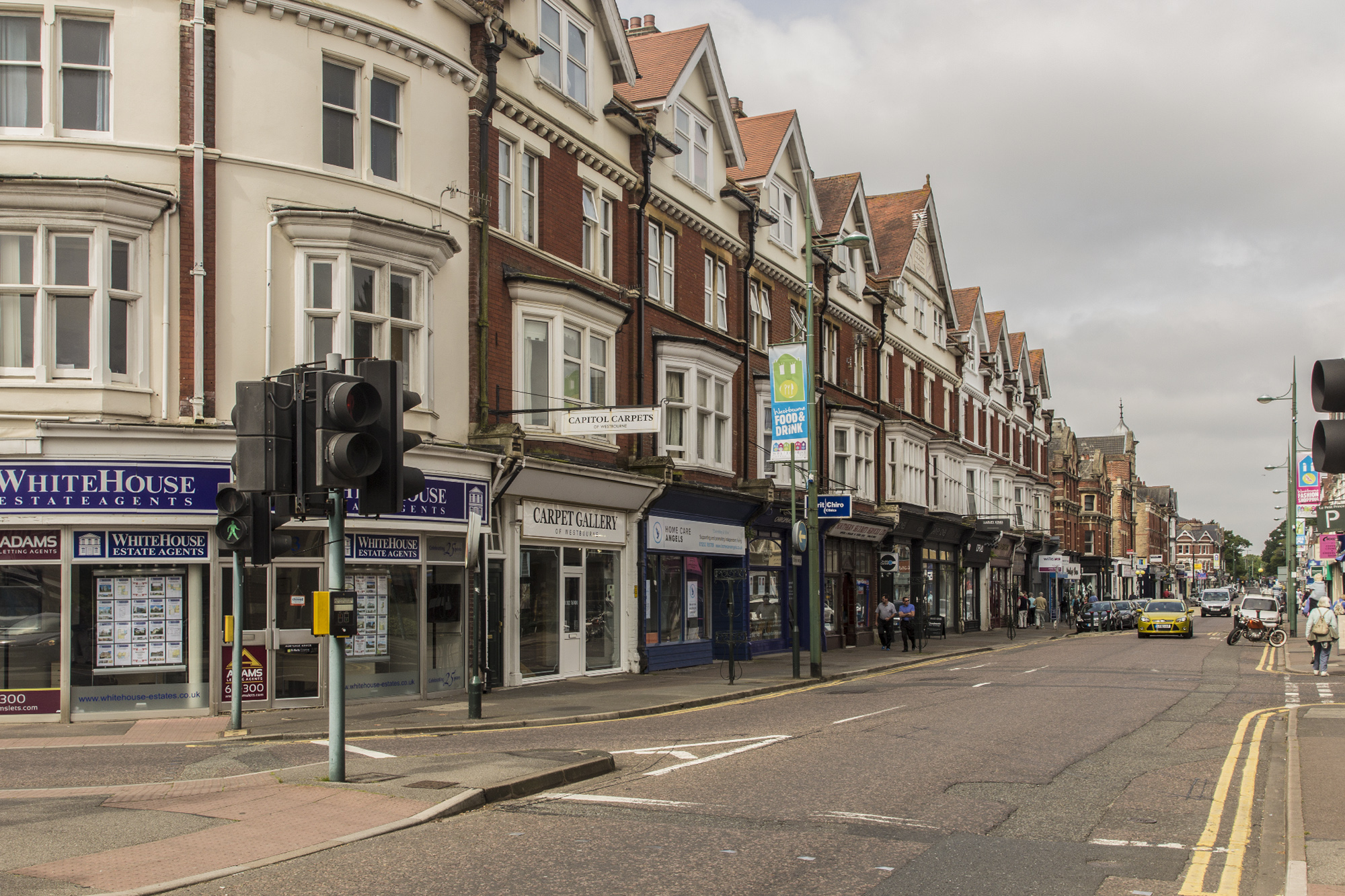 Westbourne's Poole Road (South Side).
Heading west from Bournemouth, Poole Road starts from St Michael's Roundabout, but it is not until the crossroads with Queen's Road / Clarendon Road that it enters Westbourne. Immediately on our left, at No 17, is the former Royal Victoria Eye Hospital, which was closed in 2002 and converted into flats. We shall revisit this in more depth another time.
We can only imagine how this main artery used to look in the past. Palatial housing has clearly given way to more modern blocks of flats, although there is still plentiful evidence of former grandeur around. It is not long before we are approaching the main shopping centre, heralded first by the substantial Baptist Church and the Westbourne Pub.
At the traffic lights where the one-way system begins, we need to cross to the central triangle, and then over again. Staying on the south side of Poole Road, there is a varied run of shops and businesses. Look closely at the security services store – the front windows used to lift up, suggesting a previous use as a butchers or fishmongers.
There are many busy shops along this section of Poole Road, as well as the entrance to Westbourne Arcade. At present, there are just a very small number of empty units, indicating just how vibrant this area is. Four main banks are represented – two on this side, two on the other. As we get to the end of the one-way system, though, there is a slight change in the ambience. The last section would have been a continuation of the main thoroughfare historically, but now serves only as a bus and taxi lane (eastbound), with road access to/from car parking and quiet residential roads. It is interesting to note just what a difference being off the main route appears to make to the viability of a shopping area.
Poole Road businesses (South)
West Cliff Baptist Church
The Westbourne (Pub and Dining)
Stephenson & Co (Chartered Accountants)
Rowlands Webster (Tax Advisors and Accountants)
Whitehouse (Estate Agents)
Carpet Gallery of Westbourne
Home Care Angels
Brit Chiro Clinic (Chiropractic)
Southern Security Services
Harvey Jones (Kitchens)
DFMA (The Specialist Make-up Academy)
Fired Earth
Straken & Co (Westbourne Bookshop)
Currently to Let
Mr Goldsmith (Workshop for all Jewellery)
ZaraVape.com
Hollywood Nails
Bournecoast (Property Agents)
Winkworth (Residential Sales, Lettings & Management)
Patisserie Angélique
Subway
Serendipity (Gifts, Cards, Housewares)
Majic Tan (Beauty, Sunbeds, Nails)
Romanzo (Greek Taverna)
Scrivens (Opticians & Hearing)
Bournemouth Mobility
Currently Vacant
Vantage Pharmacy
Hidden Hearing
Mason's Hair
Supersave Wines
Currently To Let
JoJo Maman BéBé (Baby & Child)
Barnados (Charity Shop)
Ladbrokes (Betting Shop)
Pizza Express
HSBC
The Porterhouse (Pub)
Mlinko (Hair & Beauty)
Piggies (Café)
Pizza Pino (Kebabs, Pizzas, Burgers)
Current Vacant
Rock N Roll Tattoo
Red Bakehouse (Café & Takeaway)
Enzo's (Italian Restaurant)
Barclays
Liverpool Victoria
---