Poole Road – North Side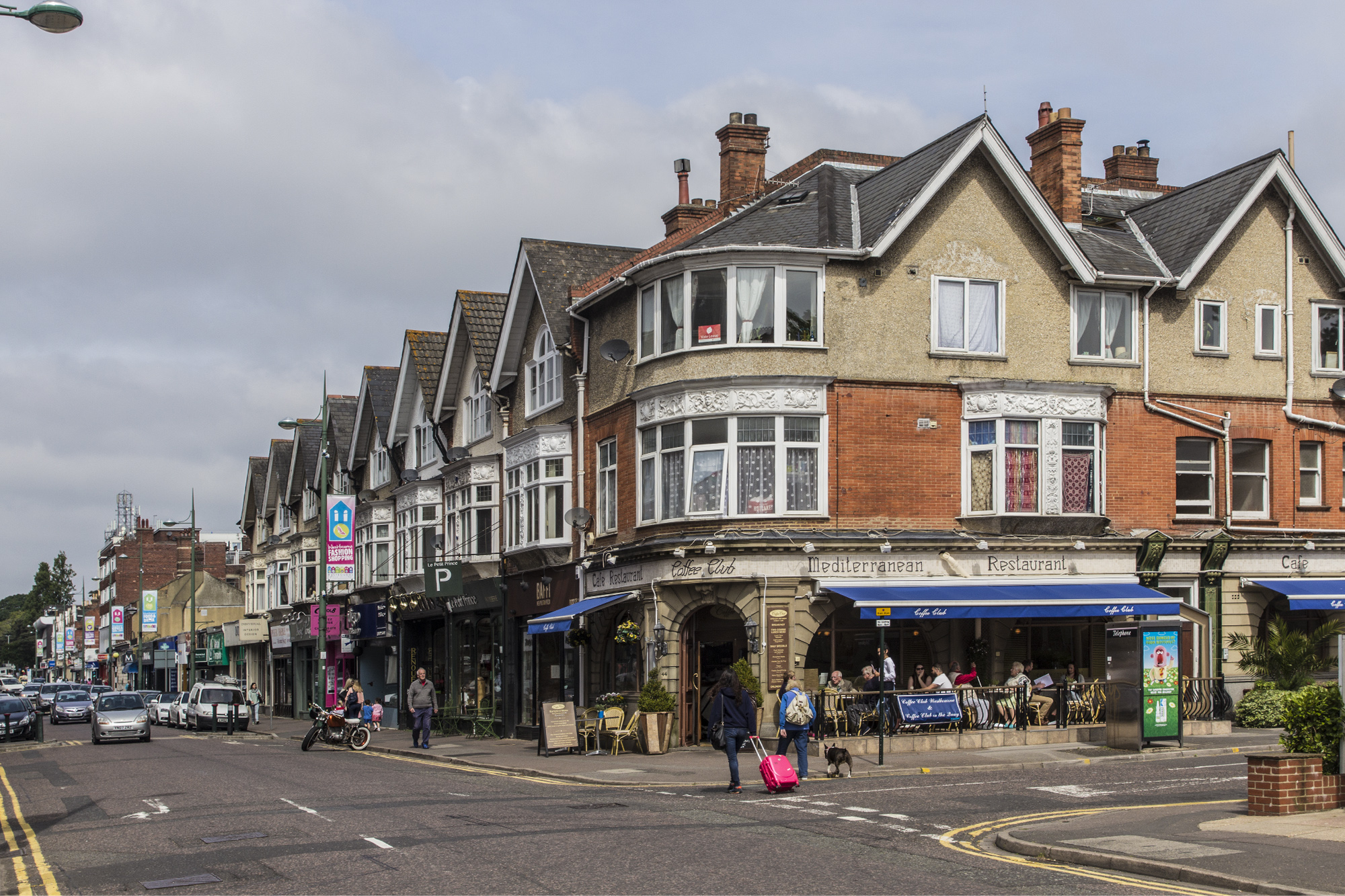 Westbourne's Poole Road (North Side).
Having looked at the south side, we return to the former Royal Victoria Hospital, and continue along the north side of Poole Road. Almost immediately, we come across two retirement homes. Interestingly, they are in total contrast to each other. One is a very modern and attractive purpose-built facility, the other utilises a much older building. Both have a lot to commend them, and both add to the street scene.
Heading on towards the main shopping centre, the north side, like the south, is mainly modern flats, which are not necessarily of any particular architectural merit. However, almost as soon as we arrive at the commercial hub of Westbourne, we notice a complete change.
To the south, it is the Baptist Church that dominates the view. On the north, it is the Grand Bingo Hall, the former Grand Cinema. The exterior is largely unspoiled, and it is easy to imagine the long queue along Poole Road that would have formed when a popular film was being screened. There are a number of shops in the frontage, making this a vibrant area. Further along, we come to the unusual sight of a church that is not a church. The exterior of the former Methodist Church looks very much as it always did, except closer inspection reveals the "Tesco Express" logo! After a short period of being empty, this former place of worship became a supermarket. Whatever one may think about the rights and wrongs of this, the building still graces the street scene and people can still enjoy the beautiful stained glass. The upstairs area also houses a restaurant.
Crossing Landseer Road, on the opposite side of the road to the former church, is another building that is clearly not service its original purpose. The architecture says "bank", but it is a Mediterranean café. Indeed, previously this was the TSB (originally Trustee Savings Bank), and would have been closed (as were many other former TSB branches) some time after the merger with Lloyds back in 1995.
Continuing along Poole Road, there is quite a cosmopolitan feel to the area, with numerous places to eat and drink, some with outside seating, others with frontages that open wide. These are interspersed with a wide variety of shops of all types, making Westbourne quite the place to spend the day.
Poole Road businesses (North)
Sunrise Senior Living (Retirement Home)
Drumconner (Retirement Home)
Abbeyfield Wessex (Retirement Home)
Andrews & Company Accountants
Tigerlilly (Nail Bar)
Soft & Natural (Permanent Cosmetics & Beauty Clinic)
Grand Bingo Hall
Southcoast Property (Sales, Letting & Property Management)
Village Bistro (Café & Restaurant)
Taj Mahal (Indian & Bangladeshi Restaurant & Takeaway)
Currently empty (was Creative Hub)
Tesco Express
Plates & Co (Restaurant)
Coffee Club (Mediterranean Café Restaurant)
Baffi (Neapolitan Pizza)
Le Petit Prince (Patisserie)
Renoufs (Cheese & Wine Bar)
Indigo Hair & Beauty
Chocol8 (Coffee Lounge & Chocolate Shop)
MJP Law (Solicitors)
Simone Thomas (Hair Salon)
Peter Treble (Butcher)
Individual Interior Design
Arrowedge (Retail Chemist)
Mabel & Jacks (Ladies' Clothing)
Circo Lounge (Café Bar)
Hays Travel
Boots (Pharmacy)
Dawsons (Bang & Olufson Audio)
Multi York (Soft Furnishings)
Marie Curie (Charity Shop)
Woosters of Westbourne (Coffee House)
Gemma (Ladies Shoe Boutique)
Nat West
Iceland
Age UK (Charity Shop)
L & R (Shoe Repairs & Key Cutting)
A-One Insurance
De Parys (Dry Cleaners)
Starbucks Coffee
The Dancing Duck (Bar & Restaurant)
Amplifon (Hearing Aid Specialists)
Lloyds Bank
Palmer Snell (Letting Agent)
Parachute (Fresh Fruit & Vegetables)
Tenovus Cancer Care (Charity Shop)
Fred Olsen (Travel Agents)
Knight Eye Care
Cook (Frozen Food Centre)
Native Therapy (Alternative Medicines)
The Salvation Army (Charity Shop)
Serenity (Bedroom & Interior Design)
Genieve (Café Bar)
Kaplan (International Colleges)
C4L
Towngate Personnel
LV=
---