Trevor Ayling and Renoufs Cheese and Wine Bar, Westbourne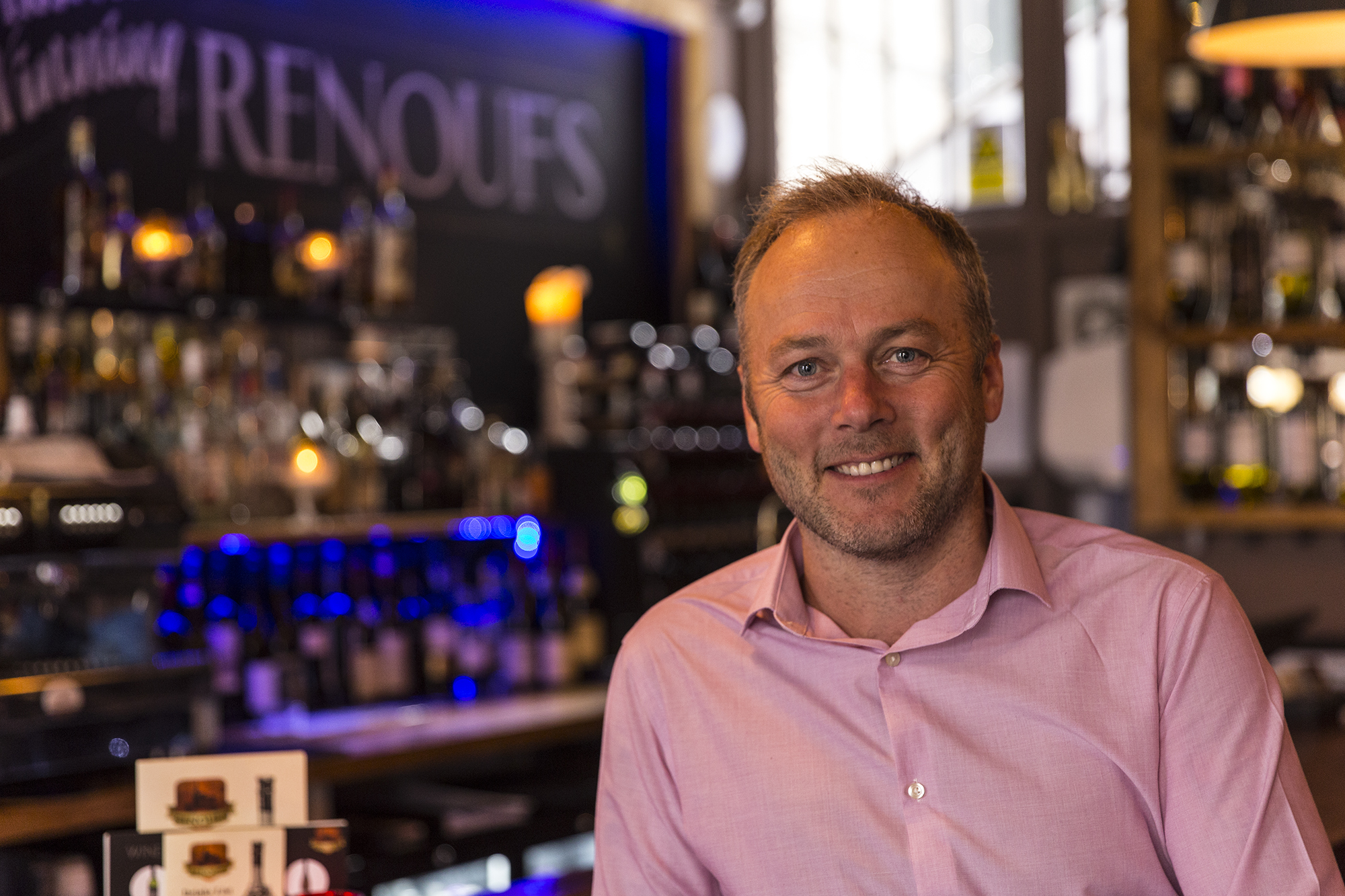 We talk to Trevor Ayling, owner of Renoufs Cheese and Wine Bar.
Located on the north side of Poole Road, Renoufs Cheese and Wine Bar is one of several eateries in close proximity. But there, the similarity ends.
One would be forgiven for thinking that, with the reputation Renoufs has, it has been here for years. But, Trevor tells me, he only opened on 22 May 2015. Born in Yorkshire, Trevor had a track record working in various bars before running a stretch-limo hire service for 15 years!
It was whilst working in a Portsmouth bar that Trevor met Sarah. "The first words I said to her were 'Will you marry me?'" he says with a big grin. "We've now been married 22 years!" Maybe part of the secret of their successful marriage is that they do not work together in the bar (Sarah has her own business to look after).
As we are chatting, I am offered a coffee. Rob, the manager (and chief mirror cleaner, bottle arranger and barista) brings me over a cappuccino that is so well presented, it seems a shame to spoil it by drinking it. "We serve the best coffee in Westbourne" Trevor jokes, before telling me not to write that! It's an Italian coffee, Dolce Vita. It was certainly very nice. Let's settle for one of the best.
So, how did he move from running a limo hire business to running Renoufs cheese and wine bar? Disillusioned with what he was doing, Trevor decided to return to his previous profession. Realising that there was a gap in the market, he did his research. Wanting to enjoy a coastal resort, he started looking in the Bournemouth area for a suitable location. Westbourne was finally chosen as it had exactly the vibrant character he wanted, and a suitable property was available.
In a very short space of time, the business has become very popular. There is a 3-5 week wait if you want a table at the weekend! Each Table is only booked once each night, meaning you have the whole evening to relax and enjoy yourselves. And, there is so much to enjoy. The chalk board menus are impressive.
There are 20 cheeses to choose from, which are rotated from time to time. Then there is the charcuterie (yes, I had to ask what this was!). This is a board consisting of a choice of 12 local, regional and international cured meats. The boards also come with fruits, pickles, crackers and freshly baked bread. The website gives much more information, including detailed descriptions of the various cheeses. Local produce is used as much as possible.
To wash this all down, there is always 100 different wines to choose from, or cold beers, of course! For those who would like to explore different wines, instead of being stuck in the same rut, there are wine tasting 'flights' – packages of three wines to taste (choose from red or white), ranging from just £5.50 to £9.50. An excellent way of trying something different, and comparing alternatives.
The team is made up of 21 people, full and part time, ranging in age from 17-58! It seems a very happy place. Indeed, Trevor's cheerful face is infectious, and one cannot help but feel at ease in his presence. It is not hard to see why this place is so successful.
Looking around the walls, certificates displayed reveal they were a finalist in the Bournemouth Tourism Awards for Bar Personality of the Year and Open Table Diners Choice winner in both 2015 and 2016. They also have a Certificate of Excellence 2015 from Trip Advisor. A quick check of the Trip Advisor website reveals that they are rated fifth out of 550 restaurants in Bournemouth. It comes as no surprise that the Food Hygiene rating is 5.
So, is he looking to expand? "If the right place comes along, I would like to open another restaurant" he reveals. "I wouldn't make this place any bigger, though. It would lose the ambience." I could carry on chatting for ages, but someone else has come in who needs Trevor's attention, and I have other things I need to do too.
So, where does the name Renoufs come from? It is the Jersey French family name of his wife. "And it's pronounced Ren – offs" he tells me. Well, he should know!
For further information, please see their website www.renoufs.co.uk
---