A Tour of Alum Chine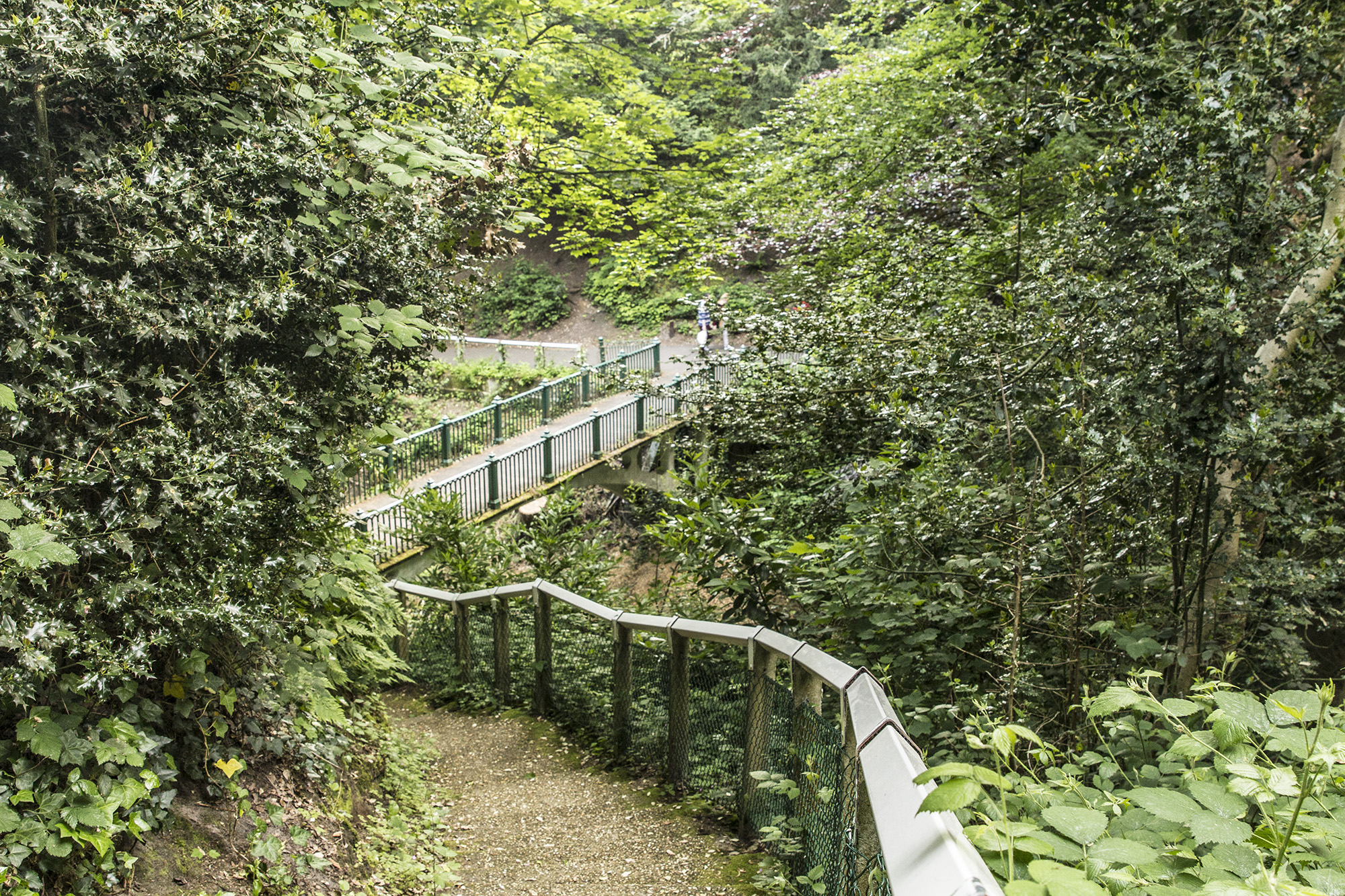 Alum Chine.
We covered a brief history of Alum Chine yesterday. Today, we take a bit of a guided tour. Starting at West Overcliff Drive by St Ambrose Church, we head south. We soon come across our first access point, which would take us over one of the bridges.
Noting this for now, we carry on south. There are a couple of points where the brave and leg-strong can venture down steps to reach the bottom. However, we are carrying on until we almost reach the top of the cliff.
Here, we see a sign pointing to the Tropical Gardens. There are also some seats on which to rest and take in the view. However, the trees have obviously grown in front of this viewpoint, so not many seats now offer a chance to see the sea. We make our way down to Alum Chine through the Tropical Gardens. Whilst some areas are only accessible by steps, it is possible to get the whole way down avoiding them, thus making it wheelchair friendly. The slopes are all fairly gentle. There are a couple of good stopping points on the way to view the gardens, and also to look out and enjoy the vista across the bay.
At the bottom, we arrive at the point where Alum Chine meets the promenade. Here, there is a children's play area, some quite reasonable public toilets, an Italian restaurant, a paddling pool and some beach huts. At you would expect, the beach here is very sandy. Another interesting feature is a DIY bicycle service station!
Heading north, there is an old drinking water fountain by the play park. We then go past the end of Alumhurst Road, and the bus stop. Then, we are back in Alum Chine proper. Walking through here, it is hard to believe that you are so close to the centre of Bournemouth. It is a beautiful tree-lined path, well populated with birds that you can hear all around. Some of the houses in Studland Road (above us on the west side) have their own access down to the path.
It is not long before we are walking under the suspension bridge, which seems fantastically high. Not long after, we arrive at the other two bridges. The first one, to our right, will take you back to West Overcliff Drive. The other one (the arched bridge) will take you to West Cliff Road. The path that continues off to our left will take you to Warren Road/Drury Road and Alumhurst Road.
---