Simon and the Grand Bingo, Westbourne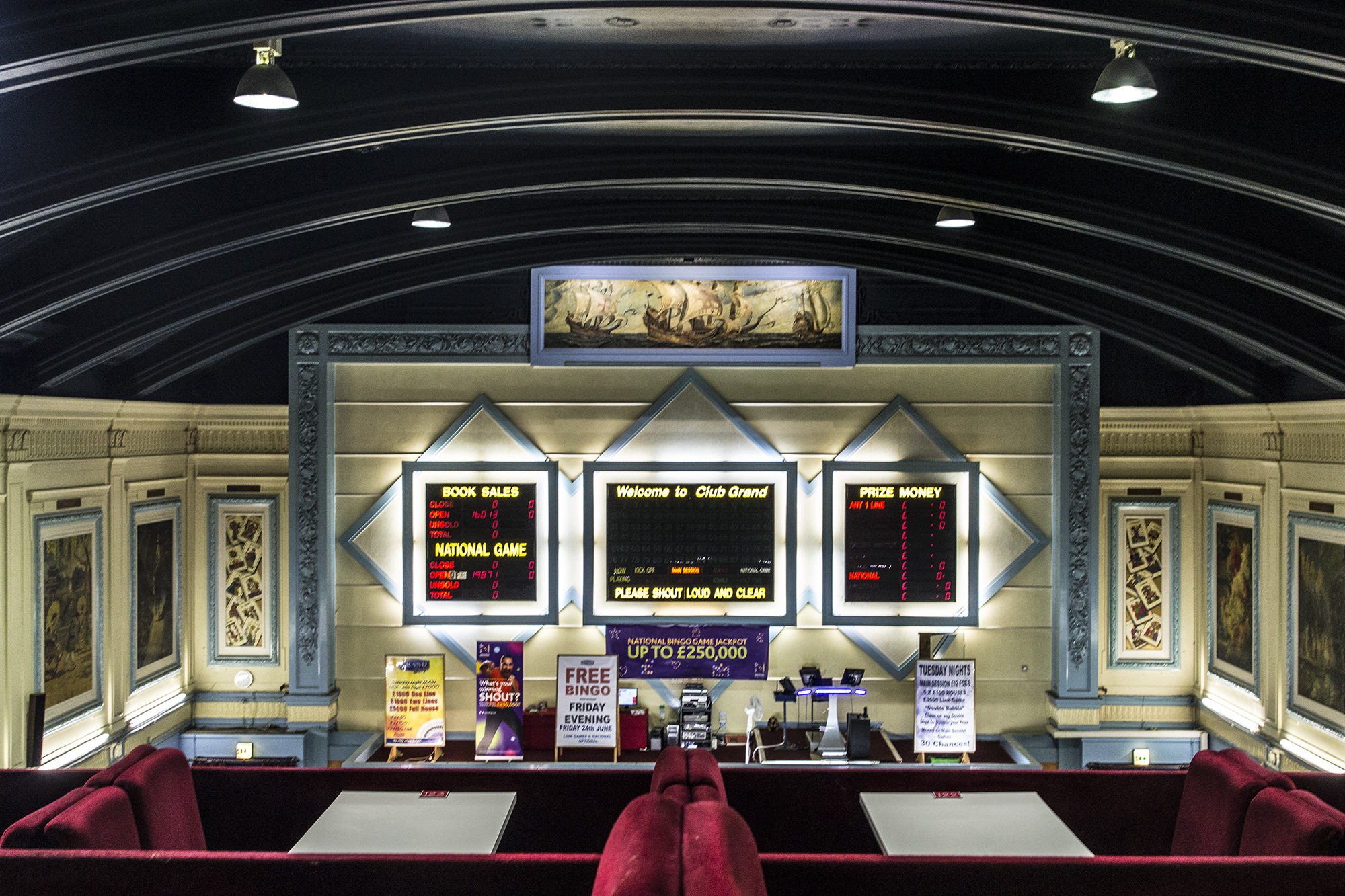 Simon and the Grand Bingo, Westbourne.
Travelling through Westbourne on Poole Road, you can't help but notice the Grand Bingo, Westbourne. Built as the Grand Cinema and seating 1,000, it opened on 18 December 1922 to "Anthony & Cleopatra".
Initially built and operated as an independent cinema, it was soon taken over by Savoy Cinemas, later absorbed into the ABC (Associated British Cinemas) group. During 1933-1935, it was leased to Regent Cinemas, before returning to ABC control under the name Grand Super Cinema. On 21 December 1953, it was taken over by Snape Entertainments, who continued to operate it as a full time cinema until 8 October 1975.From this date, it went over to bingo, although little conversion work was done. From 27 March 1976, films returned on a part-time basis, continuing with bingo the rest of the time. The last film was screened on 8 October 1977. The Grand was then purchased by the Bartlam family, who converted it to full-time bingo, reopening in Feb 1978.
Current owner Simon Bartlam started working for his parents when he left school, and took over in 1979. The conversion was done on a budget. However, as Simon points out, this means the building still retains a number of original features. "The building was listed in 2000, which does make it more expensive to maintain, and a converted cinema is perhaps less ideal than a purpose-built venue" he adds.
Bournemouth born and bred (he currently lives in the Queens Park area), Simon has seen a lot of change. Many bingo halls in Bournemouth have come and gone, leaving the Grand Bingo, Westbourne something of a rarity. "Bingo has changed" he says. "TVs and Washing Machines used to be great prizes" he continues. "Now, everyone has them." In its heyday, around 2,500 people used to come through the doors in a week. Now, it's nearer 900.
Not that it's all doom and gloom. Numbers have been stable for some time, and Simon has no intention of closing the doors. He explains: "We took a hit with the smoking ban in 2007. More recently, it is the growth in on-line gaming. But, people now go outside to smoke, and we offer a far more social experience than the on-line games. It's like a corner shop – friends come here to meet and chat. More than that, though, they can enjoy the game."
He also looks back on the changes in the industry. "In the past, it was far more a social time – the prizes weren't so important. Now, although the social side is still there, people want more substantial prizes" he reflects. Keeping up with the times, Grand Bingo Westbourne has introduced electronic "cards". "We still have the paper cards, though" he adds. "Not everyone likes the technology. However, some find them easier to play with." Interestingly, it's not an age issue. Some younger players prefer the paper, and several older members have gone electronic!
Simon has every intention of The Grand Bingo, Westbourne entertaining people for years to come. "There are always rumours" he says, "but I enjoy running the Grand, and we will carry on welcoming players, old and new alike. We have many regulars, and we are on first name terms with them. I love Westbourne, with all the speciality shops. It is a thriving community, and we are very much a part of that scene".
Talking to Simon, it is clear that he very much enjoys running The Grand. His love of Westbourne is obvious, and he definitely has a soft spot for the building, which he owns. From 1986 the bingo operation was leased out to other operators but, unhappy with the way it was being run, he took it back in-house in 1994, and has run it ever since.
He reiterates that Bingo is very much a social affair. You must be over 18, but you no longer have to sign up 24 hours before you can come in – membership is free and instant. And, it isn't expensive. An afternoon session can cost as little as £5 – with free tea and biscuits! Evening sessions are a little dearer (perhaps up to £20, depending on which night), but that still makes for a reasonable night out. With a fully licensed bar – and food (you can get a burger and chips from £2), it makes for a great venue. Prizes can range from up to £2,000 for a link game to a massive £250k on the National Game. "We offer a safe environment – particularly for ladies on their own. It is fun for old and young alike" says Simon. Indeed, their oldest member has just celebrated their 100th birthday!
Why not drop in one day and give it a go?
Further Reference:
Gary Denness Blog
Cinema Treasures
Historic England Listing
Ted62 Proboards Grand Cinema Westbourne
Ted62 Proboards Lost Cinemas Bournemouth
Dorset Life Article Nov 2015
---