Seamoor Road – South Side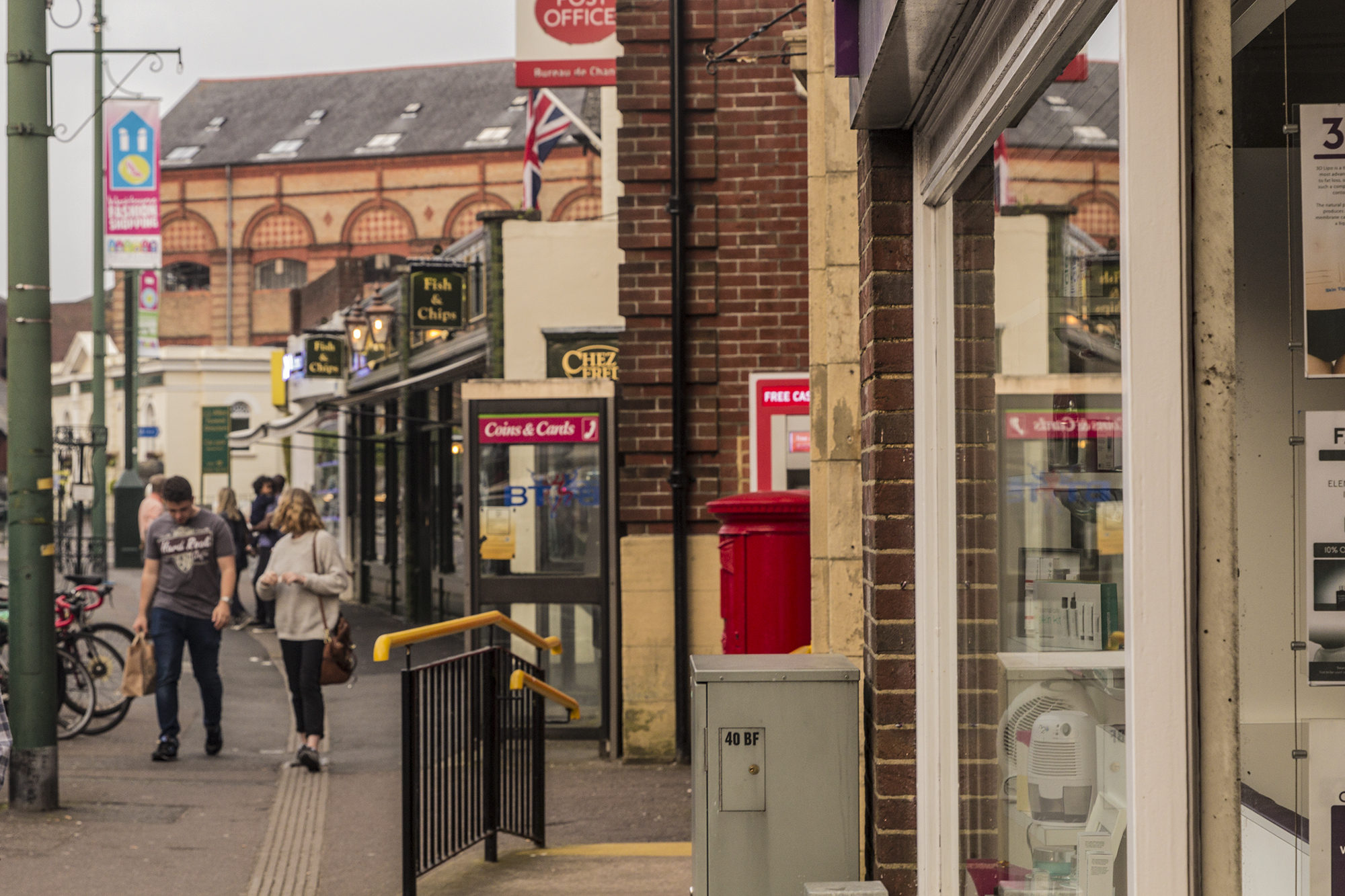 Westbourne's Seamoor Road (South Side).
Having looked at the Arcade, our next journey is around Seamoor Road. Approaching from the Bournemouth Town Centre direction, we reach a junction where, to continue towards Poole, we have to bear left. The road is lined with shops on both sides. On today's blog, we are looking at the south side. Tomorrow, we shall look at the north.
Again, we see an eclectic mix in the shopping experience. There are several eating establishments covering a wide variety of tastes. Hairdressers (of course), Estate Agents, fashion and clothing – and even a Post Office. Unusually, the Post Office is still located in its original building. Today, I shall simply list the businesses but, in the coming weeks, I hope to be able to meet some of the people involved, and tell their stories.The one-way system in Westbourne used to serve as the terminus for the Yellow Buses (originally Bournemouth Corporation Transport). These never used to venture across the border into Poole. This was also the western extent of the trolleybus system. Now, helped by the dawn of Bournemouth University, there are buses almost every minute between Bournemouth and Poole passing through Westbourne. Now, "More Buses" (today's version of Wilts and Dorset and the Hants & Dorset which used to run into Bournemouth) and Yellow Buses are seen constantly. Open Top services run between Bournemouth and Swanage.
One of the businesses is JJ Allen Funeral Directors. This is a remnant of the former JJ Allen Department Store in Bournemouth. This will be the subject of a separate study in the not too distant future.
The gap in the numbering between 46 and 56 is occupied by the Libertine Pub. However, this gives its address as 1 Alumhurst Road (it is on the junction), and will therefore be covered when we get to that road. The M&S Food Hall took over the former Waitrose Supermarket in 2007, when the former relocated to Upper Parkstone.
Seamoor Road businesses (South)
Seamoor House: Southern Commodities (Wholesale Clothing)
Toerags Ltd (Retail Sock System)
R L Main (Rag Merchant)
French Antiques (Imported Furniture)
2. JJ Allen (Funeral Directors)
4. Mays Estate Agents
6. Twilo Hairdressers
8-10. Chez Fred (Fish & Chips)
12. The Post Office
14. Aphrodite Beauty Salon
16. Gem World (Jewellers)
18. Amala Conscious Food (Vegan Restaurant)
20. Brown & Kay (Estate & Letting Agents)
22. Now a private residence
24. SO (Furniture, Lighting & Accessories)
26. Southern & West (Sales & Letting Agents)
28. Polished (Nail Salon & Boutique)
30. Baks (Exclusive Men's Fashion Clothing)
32. Bennetts Family Bakers
34-36. By The Fire (Electric & Gas Fires) – upstairs showroom
34-36. Ripples (Bathrooms) – downstairs showroom
38. Chester Pearce (Funeral Services)
40. MBE Moors Brothers (Shoe Repairs, Key Cutting, Engraving)
42. Westbourne Tandoori (Indian Restaurant)
44. Beau (Beauty Salon)
46. Camden (Bar & Kitchen)
56-60. M&S Foodhall
62. Pet Shack & Doggy Day Spa
64. Hair For Men (Barbers)
---