Westbourne Summer Children's Competition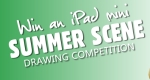 Children's Competition this Summer in Westbourne!
Parents are always looking for ways to entertain their offspring during the summer holidays, and what better way than this Children's Competition!
There are TWO iPad Minis up for grabs – one in the 7 and under category, and the other for 8-13 years. This summer, take your children out and about, and get them to draw a "Summer Scene" in an A4 size. It's as simple as that.
The finished drawing can either be uploaded to the pinned post on the Discover Westbourne Facebook Page, stating name and age, or it can be posted in the competition box in Westbourne Post Office.
Entry forms for this Children's Competition can be picked up from Westbourne Post Office, Circo, Westbourne Library, Letterbox or Attico. You can also download one at www.discoverwestbourne.co.uk/summer.
Please note that this competition is nothing to do with this website or blog – it is only being posted as an information service. For further details, visit the Discover Westbourne website at the link above.
Children's Competition Closing Date is 31 August 2016.
The winner will be chosen by a panel of judges from the entries received. No cash alternative. The winner will be notified by Facebook Message by Discover Westbourne.
---